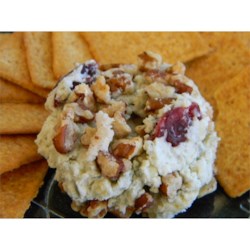 OU is playing in a bowl game tonight.
We are headed to our friend's house to
whoop
watch the game.
It should be fun . . .
we will have some Sooner fans and some Aggie fans all in one room!
We are all bringing finger foods/appetizers for dinner.
I hate meals like that . . .
I always eat too much because everything tastes so good!
I'm taking some cold dips and sliders and other fun things,
but one of the dips I am taking is a new one.
I wanted something a little different, so I went to google and listed the ingredients I wanted in my dip and viola!
Here's the recipe I choose!
I made one little change to it.
Oh! I renamed it too.
For credit sake, I don't remember where I found it -- maybe the Kraft website.
Half-a-Cup Dip
4 oz cream cheese, softened
4 oz blue cheese crumbles (gluten free blue cheese for those needing it!)
1/2 cup dried cranberries
1/2 cup chopped pecans
2 TBSP finely chopped purple onion, optional (that's my addition)
In a medium sized bowl, place the cream cheese, blue cheese, cranberries, pecans, and onion. Mix well.
Refrigerate for the flavors to blend.
Serve with crackers or sliced Granny Smith apples or pears (especially if you didn't put the onion in it!)
**I added the finely chopped onion AND served it with the apples . . . .it was a hit!