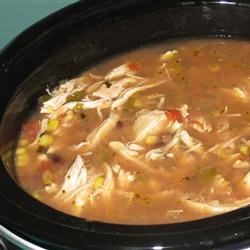 I've been to eat at Neiman Marcus one time.
It was really good!
"Everyone" talks about the Neiman Marcus cafe and the things they love from there.
Because I've only been once, my variety of selection is limited!
However, I have had lunch with friends that serve this Neiman Marcus soup recipe.
It is so delicious that I wanted to pass it along to you!
If your weather is like our weather, one day you're making soup and the next your grilling out!
But because these are simple ingredients, you'll be able to throw it together in a moments notice!
Neiman Marcus' Chicken Tortilla Soup
3-4 chicken breasts; cooked and shredded (or whole chicken; cooked & shredded)
olive oil
1 c onion, chopped
1 c bell pepper, chopped
1 c celery, chopped
1 c carrots, chopped
1/2 T minced garlic
2 t cumin
2 t coriander
1 t paprika
1 t red chili powder
1 T oregano
1/2 t cayenne (adjust to your taste)
1 28-oz can diced tomatoes
2 quarts chicken broth
10 corn tortillas, optional
1 c heavy cream
1 can nacho cheese (campbells)
1 can black beans
8 oz frozen corn
salt
pepper
Saute the onion, pepper, celery and carrots in the olive oil until tender. Add spices, tomatoes, broth, 2 c. water and bring to boil. Add corn, black beans, nacho cheese, chicken and cream. Simmer for one hour.
If you desire, tear up the corn tortillas and to the soup. Cook for an additional 30 minutes.

Serve with corn bread or tortilla chips.