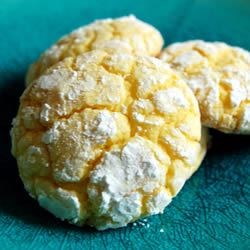 Image from All Recipes
Our neighbor was being neighborly and brought them to us as a "thank you!"
All we did was ask if everything was ok . . .
. . .when their alarm went off at 3:00 in the morning.
We checked on them right away!
I thought that was neighborly.
But she repaid us with these treats.
I think I'll be more neighborly, more often!
Do you think she'll notice?
After one little bite, we all agreed:
"GET THE RECIPE!"
I sent her a quick request and she sent me the quick recipe!
We have a great relationship, don't you think?
The only problem with the cookies: I had to share!
Lemon Cookies
1 (18.25 ounce) package
lemon cake mix
Preheat oven to 375degrees.
Pour the cake mix into a large bowl. Stir in eggs, oil, and lemon extract until well blended.
Drop a teaspoonful of dough into a bowl of confectioners' sugar. Roll them around until they're lightly covered. Once sugared, put them on an ungreased cookie sheet.
Bake for 6 to 9 minutes in the preheated oven. The bottoms will be light brown, and the inside will be chewy.