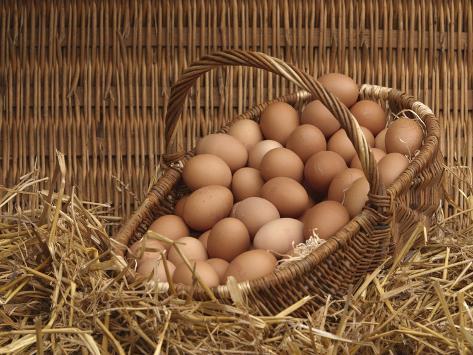 Image of basket of eggs used from the internet
The other day I walked into the library at school and they were having a breakfast birthday party for the librarian.
It was a very cute idea -- there was coffee, a breakfast casserole and a donut birthday cake!
I resisted everything at the moment . . .
then!
A friend of mine told me, after the party, that the breakfast casserole was absolutely yummy and I needed to take a bite.
So I did.
I don't like hurting people's feelings!
She was right -- it was so yummy!
So I asked the girl who made it for the recipe.
And you know what?
She doesn't like hurting people's feelings either!
She gave me the recipe!
Yeah, her!
She said it's from a Gooseberry Patch cookbook. Those are usually good cookbooks, if you haven't heard of them before. I know the name of the casserole has got be be something different -- but I don't remember, so I renamed it!
Speaking of Gooseberry Patch, here is the website where they post a recipe each week!
http://www.gooseberrypatch.com/gooseberry/recipe.nsf/f.recipeweek
Enjoy!
Library Brunch Casserole
4 cups croutons (she used "bacon" flavor croutons, found at Wal-Mart)
2 cups shredded cheddar cheese
8 eggs, beaten
4 cups milk
1 tsp salt
1 tsp pepper
2 tsp mustard
1 tbs dried, minced onion
6 slices bacon, crisply cooked and crumbled
Spread croutons in the bottom of a greased 13x9 baking dish; sprinkle with cheese. Set aside.
Whisk together eggs, milk, salt, pepper, mustard and onion; pour over cheese. Sprinkle bacon
on top; bake at 325 degrees for 55 to 60 minutes or until set. Serves 8